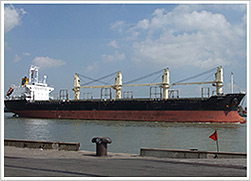 NJS WORLD LIMITED has been in the shipping line for nearly 8 years,mostly wok on professional brokerage and chartering business of breakbulk vessel, bulk vessel, heavy lift vessel, special vessel and RO-RO vessel.NJS can handle cargos from every ports in China, mainly in charge of operation in cargos delivery to ports, lashing on vessel, inspecting loading cargos, inland large cargos transportaion, customs declaration, classifying SH CODE, warehouse, documents and all-in-one operation. We're a young, dynamic and passionate team. We professionally design the best transporation scheme.and provide save, thoughtful, efficient and reducing transportaiton cost service to resolve all knids of engineering projects cargos of the globe for all types of imports&exports enterprises.
NJS mainly deal with international chartering and vessels brokerage business. Vessls deadweight tons usually scope from 5000mt to 80000mt. We have good chartering experience and background, and have annually good corporation relationship with domestic and international well-known ship owners . We can timely provide vessel line movement and ensure cargos proper prestowage and arrive at destination ports in time, which, thus, bring our company a favorable developing chance! NJS' main transportaion lines is from China (Far-East) to India, Africa, Red-Sea, Persian Gulf, South&Centural America, U.S.A., Europe, Black Sea, South-East Asia and Australia, mainly ship all kinds of steels, wind power plant eqiupment, hydropower station equipment, electricpower station equipment, civil engineering complete plant, wind energy equipment, special type dumb barge, port crane, oil drilling platform, train head(metro), yacht and over width, weight cargo of 20mts-5000mts per unit. Moreover, to broker and charter bulk vessels with transportation service for cargo owners is to import iron ore, coal, timber, stones and to export cement, bulk or ton bags of fertilizer, corn and the like bulk cargos according to cargos.
NJS always puts clients' cargos safe protection and quick transportation at first and have successfully safely timely ship tens of millions cargos on many voyages to ports of India, Africa, Red Sea, Persian Gulf, South&Central America, Europe, Black Sea, South&East Asia and Australia, which promote company professional sevice level to steps into the front of the line.
We always advocate the team to be able to professionally, innovatively and actively with good faith resolve problems in practical operation. Meanwhile, we knew the traditional industries inside out and special in design trough logistics scheme of DDU/DDP SERVICE including classifying proper SH CODE and save transportation costs for clients of manufacturing industry, offshore invest-building, secondary sector, car industry, steel industry, construction contractor , mining industry and the like industries. Via persistent efforts and professional quality service, we can become an industry operator that wields a lot of influence and have a ready market in future.
Our strategy: with view to wide and more competitive cargos market and increasing international shipping capacity, we will provide various ways of brokerage and chartering service for shipping breakbulk and bulk cargos. As the saying goes, "It's better to rent vessels rather than buy vessels." It is known to all, even for a very big shipping company, its shipping ability is limited, but it is covering more, flexible, obvious economic benefit to rent vessels. At the present global economic/shipping/ finacial integration, bran-new opportunities for setting up business have come. We are willing to develop together and create prosperity with ambitious talents from all over the world.
NJS slogan "To be the most outstanding operator in breakbulk and bulk multi transportation and the best logistics service provider for engineering projects."